"He was well cared for, but you look at the cost overall, wondering how long you can keep it up," said Tracey.
"You keep thinking 'soon they will open the borders, soon it will happen' … it was getting to that point wondering 'well what are we going to do?'."
After eight months of trying to find a way to get Lenny home, including through another country, persistence finally paid off and Tracey secured him a place on board a Japan Airlines cargo plane.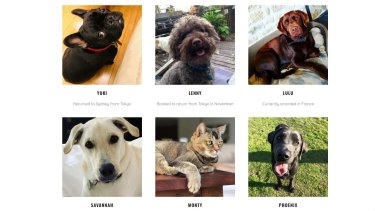 On Thursday morning, they were reunited after Lenny spent 10 days in a pet quarantine facility in Mickleham.
Tracey admitted that she wondered if it would be easier on the 10-year-old dog to not put him through the long journey home. The horrible prospect of euthanasia was raised.
"The thing that was in the back of your mind because it's a long flight and he's 10 years old, it is stressful," she said.
"You start to think about whether you should just leave him there."
Although he has lost a bit of weight, Lenny appears happy to have made it back to Australia. Tracey's daughter, Catherine, is pleased too: it's her 20th birthday on Friday.
"It's her birthday present," said Tracey. "I said I'd put a little bow on him."
Kate McQuestin, who started a campaign to bring pets home called Mission ImPAWsible, said she knew of 150 animals that were stranded overseas, in places such as the US, UK and South America.
Happily, she said 90 per cent of those were either back in Australia or were in the process of coming home. Her own French bulldog, Yuki, arrived in October.
Another group of desperate owners even went to the effort of chartering a flight from Canada to Australia, carrying more than 60 pets on board.
"My worry was that people were faced with giving their pets away or worse," she said.
"It's a happy ending, I suppose, when there are some difficult times and sad stories."
As for Lenny, his travelling days are over. He's been treated to some dried chicken snacks and new toys, which he has already chewed apart.
"It was a massive relief to know that's it, he's here. He's not going anywhere again," said Tracey.
Tom Cowie is a journalist at The Age covering general news.